Where do I start?
That's the most common question I get as an agent in today's market. When you enter "fix-up" mode, it is key to remember to keep it simple.
Let's take a look at four points that will help eliminate buyer's excuses to why they will not pay "top dollar" for your beautiful home:
1. Painting
When you have been in your home for a number years, you may not pay attention the small knocks and scuff marks to the paint work in your home. You've been treating your home as place to live, eat and sleep. Now it is time to treat it as a place for buyers to get emotionally attached.
A fresh coat of paint offers your home as clean, crisp and ready for someone new to move into. Keeping the colours neutral and simple means that the buyers can imagine any new renovations they may have planned. It also gives the buyer a blank canvass to work with for any style of furniture they are planning for.
How to make sure your renovation doesn't look like mutton dressed as lamb https://t.co/rgU8ffPQzy? pic.twitter.com/IiMlDG1AUJ

— Domain (@Domaincomau) September 28, 2018
2. De-cluttering
Over the years we accumulate belongings and items that take up plenty of room around the house. As you prepare your home to be painted, go through each and every room and remember the old motto "less is more".
Remove personal belongings, family photos and portraits and replace them with art work. This will enhance the property and take away any distractions for the buyers.
Creating open spaces makes the home feel larger and more open. For buyers this creates less doubt that the property is "too small" and takes any excuse not to pursue the property further.
3. Create useful spaces
You might be using the dining area as a study or the spare bedroom as a second living space. But when your home goes on the market you want to ensure the appropriate spaces are being shown off for what you want the buyers to imagine.
It's always helpful when a buyer can see how their furniture might fit in the space. If the master bedroom can easily fit a king sized bed but you are currently using a double bed, stage it with a king sized bed to showcase the available space. You don't want to leave a potential buyer questioning whether your home has enough space; you want to show them that it does.
Make sure the living space has couches surrounding a TV, there is enough room for a table and chairs in the dining area and each bedroom has a bed that suits the size of the room.
Utilising rugs on hardwood timber floors create an idea of a room, even if it is an open space. A lot of people are looking for open place style homes but using a rug can create individual spaces that you can call a "living area".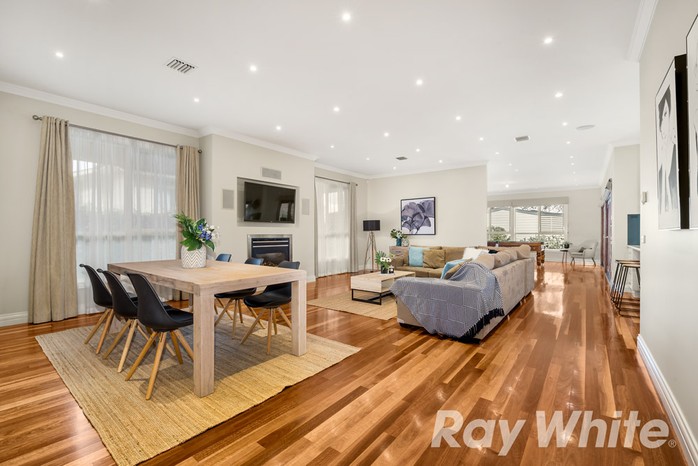 4. Replace every light bulb
It is a photographers worst nightmare when they to shoot a new home and there are several lights's that need the lights replaced.
Before you put your home on the market not only should you check every light (inside and out) but also make sure the lighting is the same colour. Consistent light will help make your home feel bigger and brighter.
Author: Peter Munt (Director)
Having been widely recognised in the Ray White Group as a highly driven and motivated agent, Peter's straight down the line and honest approach has been highly commended by his numerous loyal clients. Peter has a genuine passion for exceeding his clients expectations and leaving no stone unturned for them.