E A T I N G , D R I N K I N G & D I N I N G
There are plenty of great dining options in and around Bayswater.
The Hatter & the Hare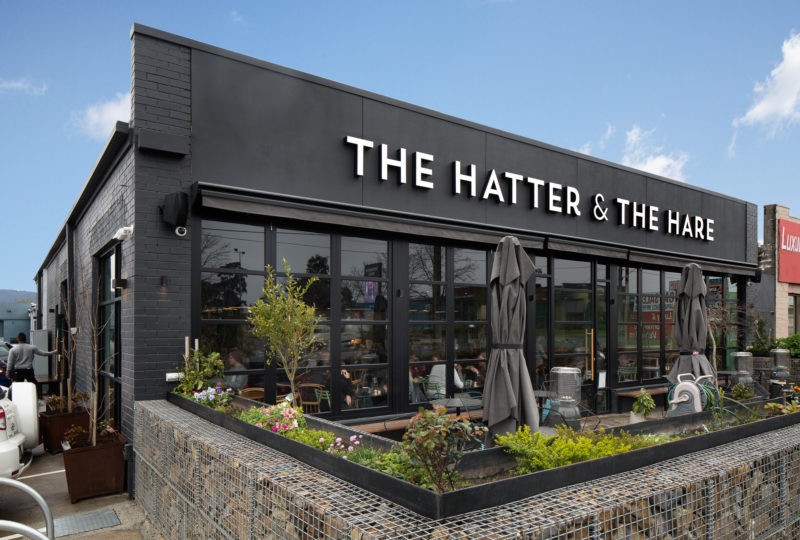 Owned and run by five individuals who have come together, united in their adventurous spirit and ever curious fascination about food. The Hatter and the Hare's mission is to facilitate an impressionable experience to customers through their quality products and services, using produce sourced from local suppliers and promote eco-friendly practices in the food and hospitality industry.
The café is a 160-seat foodie haven located in the suburb of Bayswater. It boasts of two production kitchens – a main kitchen which serves out hot and cold dishes for breakfast and lunch; and an exposed dedicated patisserie kitchen offering customers a view of how the sweet products are made from scratch and delivered directly to the tables.
If there's anything that sets The Hatter and the Hare apart, it's the high tea parties – filled with colours, tastes and smells that would set your senses on hyperdrive.
Opening Hours
Monday to Friday 7:00am to 4:00pm, Saturday & Sunday 8:00am to 4:00pm
Kitchens close at 3pm, and drinks station close at 3:45pm
Located: 1/21 Scoresby Rd. Bayswater 3153
Flame Trees Burger Bar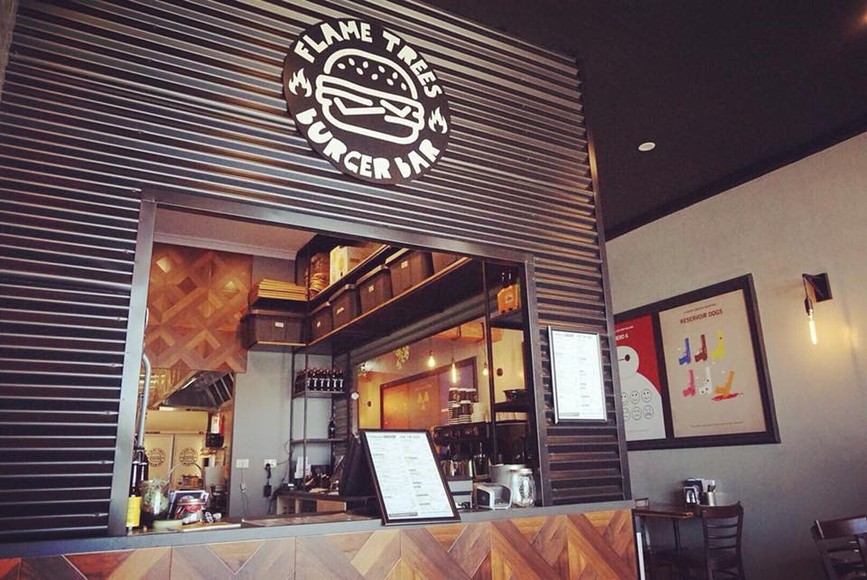 Specialising in hand crafted burgers and craftier beers, Flame Trees Burger Bar is the perfect location for a delicious lunch or social occasion with friends and family. The Burger Bar offers warm and inviting indoor dining as well as a relaxed beer garden atmosphere at the rear of the restaurant.
Opening Hours
Monday Closed, Tuesday 11:30am – 9:00pm, Wednesday 11:30am – 9:00pm, Thursday 11:30am – 9:00pm, Friday 11:30am – 10:00pm, Saturday 11:30am – 10:00pm, Sunday 11:30am – 9:00pm
Located: 741 Mountain Highway, Bayswater, VIC
The Bavarian Knox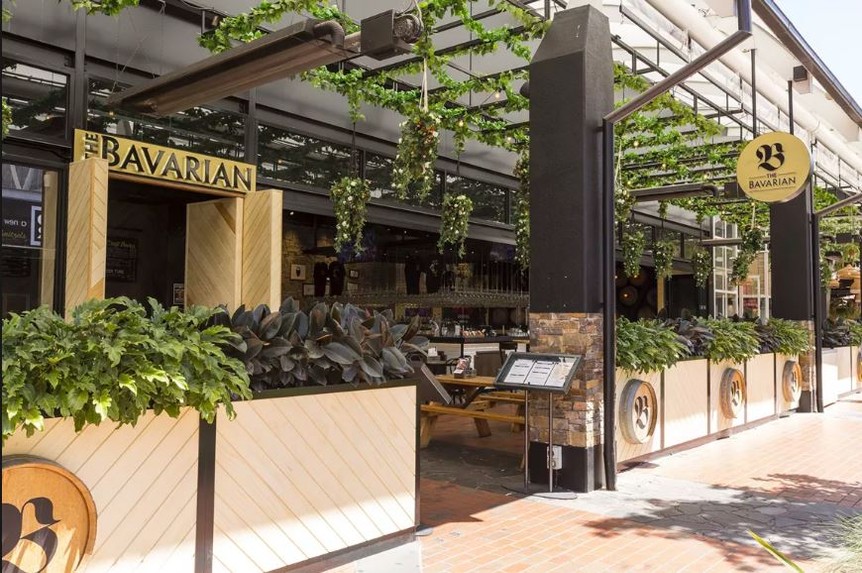 Situated in the Westfield Knox The Bavarian brings a taste of Bavaria to Wantirna South!
The open and bright venue is the perfect spot for a quick bite while shopping, or the ideal setting to settle in for a few Happy Hour beers in the afternoon.
From after work drinks, to weekend lunches and a spot to watch your favourite sporting match – The Bavarian Knox O-Zone is your new favourite destination for any occasion!
Opening Hours
Monday to Sunday 11:00am – Late
Location: Westfield Knox Ozone, 2219/509 Burwood Hwy, Wantirna South VIC 3152
That Little Brewery

Brewing your new and favourite beers with the mission to offer new and exciting beers. With a focus on sour beers. Visitors can grab a paddle of beers for $12 and enjoy four different tastings. Food vans visit the brewery most weeks, and the brewery also makes pale ales and plans to start making spirits.
Opening Hours
Monday to Thursday Closed, Friday 5:00pm – 11:00pm, Saturday 1:00pm – 9:00pm, Sunday 12:00pm – 5:00pm
The Groove Train

The venue is urban and industrial, while incorporating a modern remix of retro design. The Groove Train values style because it sets the scene for a relaxed and charmed dining experience. The atmosphere transforms as the sun crosses the sky. It changes from vibrant and light for breakfast to plush and reinvigorating for lunch. The vibe and style for dinner is versatile.
Multifaceted layouts cater for an intimate dinner for two, a raucous meal for 15, and full function affairs. Careful combinations of funky lighting, polished design, comfortable seating and ample food choices create a style that is both energetic and chill.
Locally sourced and high-quality ingredients are dynamically paired to create a new fusion of modern Australian cuisine with European influences.
Escape the hustle and bustle of the crowded shopping centre and be present in the moment. Revel in excellent table service and appetising dishes that are light on the wallet. With over 100 dishes to choose from, we have something for everyone!
Opening Hours
Monday to Thursday – 7:30am -11:00pm, Friday & Saturday – 7:30am until late, Sunday – 7:30am-11:00pm
Location: Shop 8131, 425 Burwood Hwy, Wantirna South, VIC 3152
Knox Tavern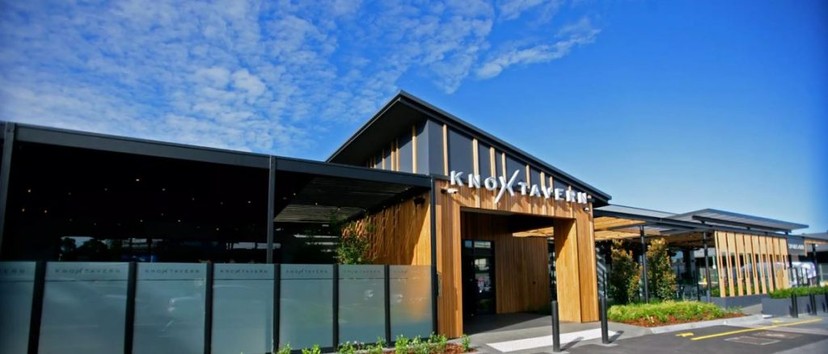 For delicious food and friendly service, dining at the Knox Tavern Bistro for lunch or dinner is a must. Offering fabulous daily specials, a wonderful seniors menu and catering for the kids too, everyone can enjoy a meal out at the Knox Tavern. With a warm and relaxing atmosphere, the Bistro is a great place to stop with friends, family or a table just for two.
As your friendly local, make sure you also check out the bigger and better Tavern Bar. With a HUGE NEW SCREEN FOR LIVE SPORTS and fantastic counter meals, PUB TAB facilities including Trackside, Fox Sports and pool table. Include in the mix the friendly bar staff, you will find the Tavern Bar is a great place to be any day of the week.
Knox Tavern has two areas available for small functions or special occasions.
– Private Dining Room caters for up to 18 people for seated functions; and
– Alfresco Area can hold up to 35 people for seated functions.
The friendly staff can assist with arranging a variety of smaller style functions including, birthday parties, corporate functions and formal dinners.
Opening Hours
Monday to Wednesday 9:00am – 5:30pm, Thursday to Friday 9:00am – 9:00pm, Saturday 9:00am – 5:00pm, Sunday 10:00am – 5:00pm
Location: 1 Capital City Boulevard, Knox O-Zone, Burwood Highway, Wantirna South VIC 3152
Junior Tan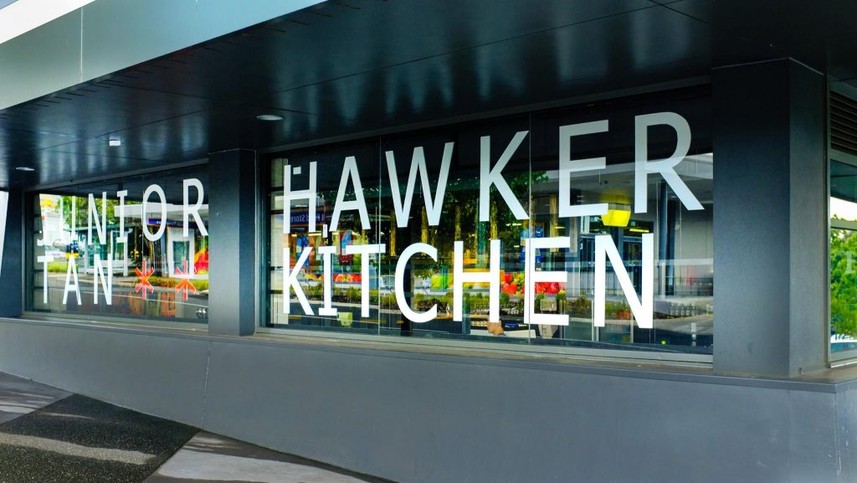 Experience the taste of Malaysian Hawker Food with Junior Tan.
Opening Hours
Monday Closed Tuesday to Sunday Lunch: 11:00am – 3:00pm, Dinner: 5:00pm – 9:30pm
Located: Shop 25, 7 High St, Bayswater VIC 3153
Seamus O'Toole Irish Pub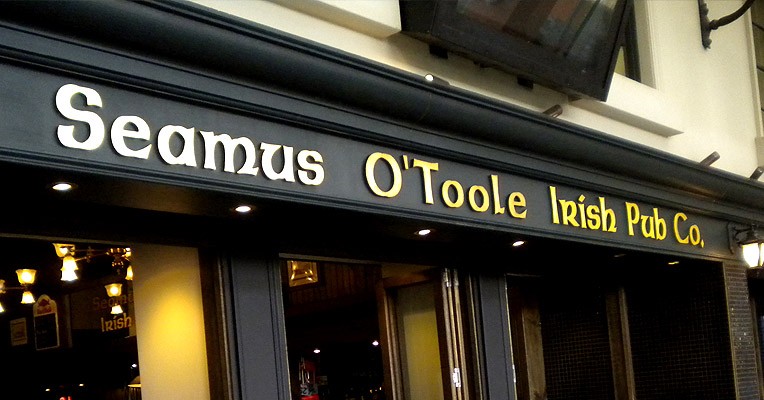 Seamus O'Toole Irish Pub can only be described as your traditional Irish Pub. Its ambience expresses both a cosy yet enthusiastic atmosphere and staff who prove that what they do is not just a job, but that it is great fun to work there.
With a great line-up of daily specials and entertainment including Irish bands, a huge variety of promotions, and food and drinks at very reasonable prices, it is easy to understand why Seamus O'Toole is so popular.
As the old Irish saying goes; "fàilte gach cairde." – Welcome all friends. Why not come and experience the great food and family dining for yourself?
Opening Hours
Monday 9:00am – 3:00am, Tuesday 9:00am – 12:00am, Wednesday 9:00am – 12:00am, Thursday 9:00am – 12:00am, Friday 9:00am – 5:00am, Saturday 9:00am – 5:00am, Sunday 9:00am – 12:00am
Location: Shop 2215 Westfield Knox, 509 Burwood Highway, Wantirna South
The Bayswater Hotel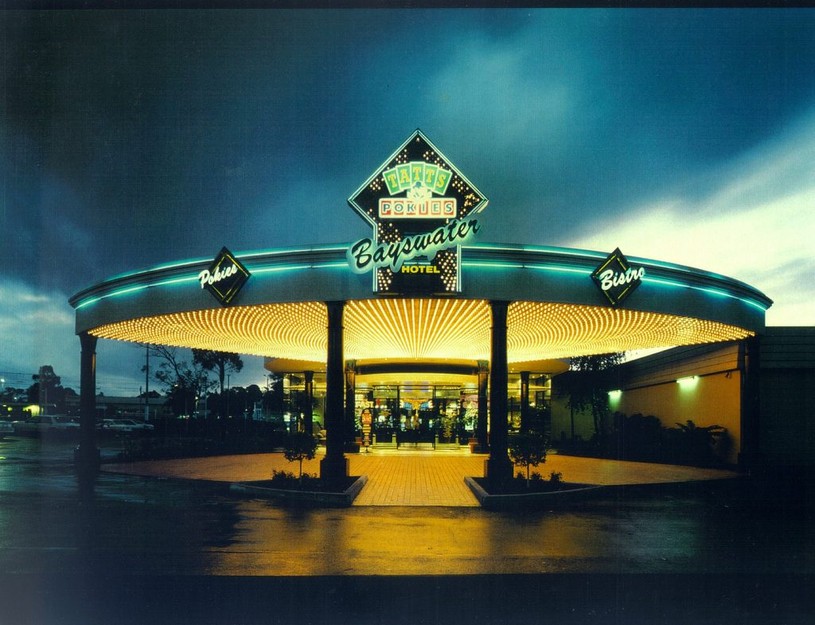 Situated within close proximity to the Dandenong Ranges, Sassafras and Olinda, the Bayswater Hotel offers an array of facilities and entertainment areas for everyone to enjoy. They pride themselves on delivering great value food & the perfect draught beer.
The staff are committed to providing an informal, friendly local suburban venue and believe that their hospitality is second to none. The Bayswater Hotel prides themselves on being a hotel that provides a level of service that is welcoming and relaxed and one that always meets, an often exceeds, expectations.
For customers looking for something to eat, make sure you dine in the family friendly bistro. They've got all your pub favourites, kids' meals and regular specials to keep the whole family happy!
The bar offers a relaxed and friendly environment perfect for catching up with friends or a relaxing drink. The bar also features FOX Sports and TAB facilities as well as regular social and sporting events.
If you're looking to host a special event or function, the Sports Bar offers free room hire and a range of packages to make your event one to remember. The Bayswater Hotel can also host children's birthday parties in their bistro!
Opening Hours
General Hours: 7 Days: 9:00am – 5:00am
BISTRO HOURS: Monday to Sunday Lunch: 11:30am – 3:00pm, Dinner: 5:30pm – 9:00pm
BAR HOURS: Monday Thursday 11:00am – 10:30pm, Friday 11:00am – 11:00pm, Saturday 9:00am – 11:00pm, Sunday 11:00am – 10:00pm
Located: 780 Mountain Highway, Bayswater, VIC, 3153
Mary Eats Cakes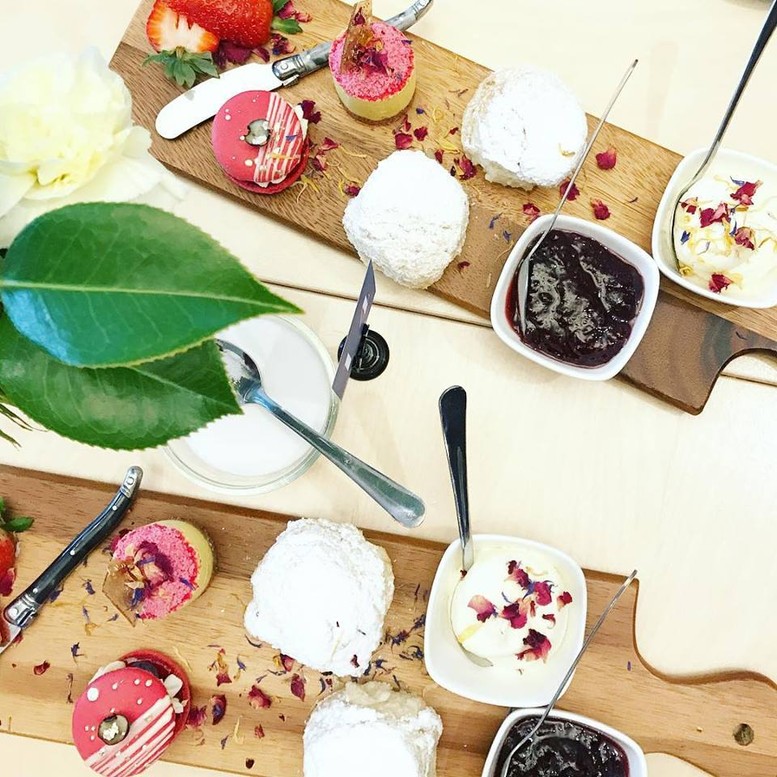 A spoonful of friends and family, flowing French sparkling, fine tea in fine bone china, cocktails in fancy glassware (always) and most importantly; a spread of delectable High Tea with fabulous company.
Mary Eats Cakes is a country glam tea house in the leafy suburb of Montrose close to Mount Dandenong and on the way to the Yarra Valley.
Perfect for family catch ups, birthdays, bridal and baby showers, the High Tea includes a selection of fresh savoury items, fluffy scones with jam and cream, sweet treats prepared in house and presented on beautiful High Tea stands collected from vintage stores accompanied by a selection of artisan tea served on vintage teaware.
Opening Hours
Monday: Closed, Tuesday to Friday: 9:00am – 4:00pm, Saturday and Sunday: 10:00am – 6:00pm
Located:13 Leith Road, Montrose VIC 3765
Hahndorf's Fine Chocolates
Inspired and educated by German chocolatiers, Hahndorf's opened their first store in late 2001. Offering a café style chocolate shop producing chocolate so that customers could relax, enjoy a coffee, hot chocolate, milkshake and cakes while sampling the chocolates.
Today, customers are welcome to visit any of the stores to see and enjoy the ever changing chocolate creations on offer.
Open: 7 Days – 10:00am till 6:00pm
Location: 960-962 Mount Dandenong Tourist Rd, Montrose VIC 3765
The Dandenong's
Kelly's Bar and Kitchen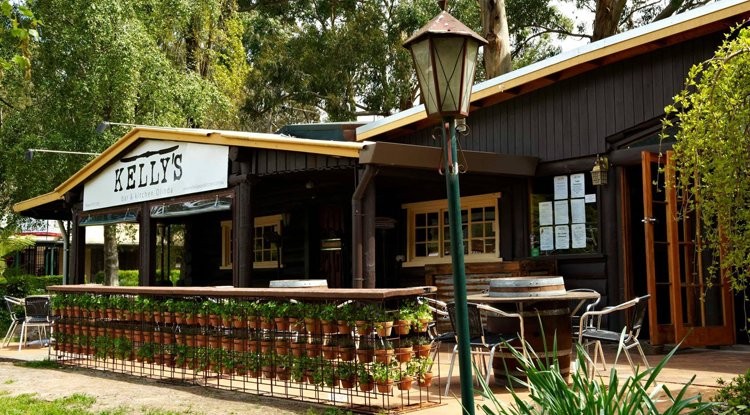 Kelly's Bar and Kitchen is an original log cabin built by Jack Dodd for the Anstey family over 100 years ago, originally serving as a tea room before any other shops were opened in Olinda. Since then the building has been renovated to become a functioning modern restaurant whilst still maintaining the warm rustic ambience of the original building.
Using seasonal and local produce the chefs work each week to create an ever changing array of special dishes whilst also maintaining the staple menu Kelly's Bar and Kitchen.
Kelly's Heritage Listed Log Cabin is ideal for any special occasion and our staff are experienced in intimate small functions, as well as large wedding parties and engagements parties. We regularly host large bookings, with a maximum capacity of 120
Opening Hours
Monday to Thursday 3:00pm – 10:00pm, Friday 3:00pm – Late, Saturday 12:00pm – Late Sunday 12:00pm – 10:00pm
Located: 1510 Mt Dandenong Tourist Road, Olinda, Victoria
Dudleys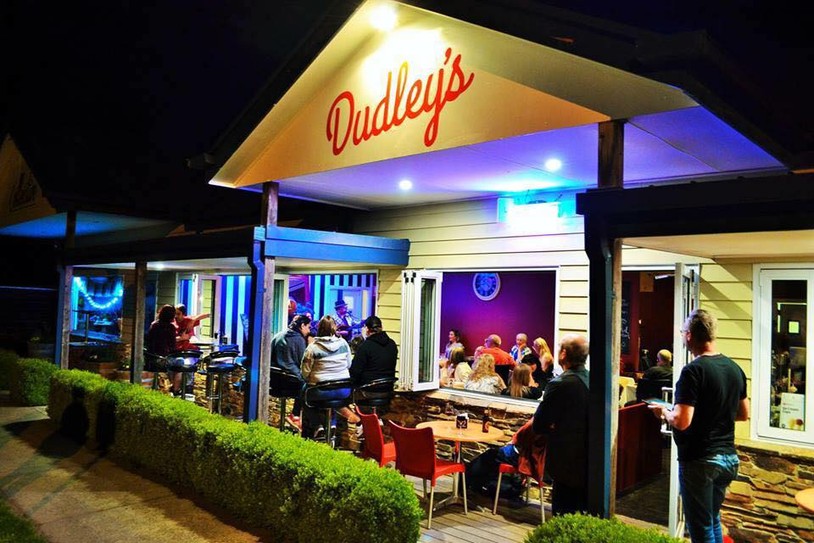 From early morning breakfast favourites, to light tapas options, hand-made wood-fired pizzas, traditional pastas and hearty mains, Dudley's caters to every mood you're in offering a wide variety of food in a Mediterranean style with a modern twist.
They offer vegan friendly pizza dough which is made on site daily and they have wide range of gluten free options including pasta, pizzas, desserts and bread.
The restaurant offers two open fire places for the cooler months and two welcoming outdoor court yards for the warmer months, Dudley's is the ideal restaurant for all occasions with a relaxed dinning atmosphere. With a function room able to seat up to 14 people, or smaller candle lit tables, this restaurant makes any excuse to eat good food easier and more enjoyable.
Opening Hours
Monday 9:00 – Late, Tuesday 11:30 – Late, Wednesday 11:30 – Late, Thursday 11:30 – Late, Friday: 9:00 – Late, Saturday: 8:30 – Late, Sunday: 8:30 – Late
Located: 540 Mount Dandenong Tourist Rd, Olinda, 3788, Victoria, Australia
Pig & Whistle
In 1991 the owners of this restaurant set out to create a tavern and restaurant with a warm family oriented environment offering the best of English pubs and Australian hospitality.
Over time they have evolved to meet the demands of locals, regulars and newcomers alike. Today the Pig & Whistle tells of a charming place to meet with friends & family to enjoy an evening of fine food, drink & song all night long.
Take 'a pig' – a sussex drinking vessel shaped like the animal; add the expression 'wet your whistle' – meaning to have a drink, and there you have it.
Open: 7 Days – 11.00am till 11.00pm
Located: 1429 Mt. Dandenong Tourist Road. Olinda 3788 (Cnr Dickens Road)